Ministry Of Foreign Affairs Essay Competition Trinidad 2012 Ram
Name of Organization
Foreign Affairs
Type of Organization
Business
Date(s)
Wednesday, November 1, 2017 to Friday, November 10, 2017
City
Virtual Event
Description (no more than 300 words)
Foreign Affairs and the Lee Kuan Yew School of Public Policy want to give tomorrow's leaders the opportunity to demonstrate innovative thinking on the issues that shape their world.
**Open to all undergraduate students**
In the 2017 Student Essay Competition, a panel from the Foreign Affairs editorial staff and the Lee Kuan Yew School of Public Policy will select one undergraduate's essay to be published on the Foreign Affairs Web site.
Essay topic: Does populism pose a threat to the international order? Why or why not, and what can be done about it?
Deadline: November 10, 2017
Contact Name
Michael Pasuit
E-Mail Address
mpasuit@foreignaffairs.com
Website
https://www.foreignaffairs.com/2017-student-essay-competition
Event Access
Free and Open to the Public.
The Department of Foreign Policy and Research in the Ministry of Foreign Affairs, Trade and Commerce, is in the final week of visits to secondary schools and tertiary educational institutions in Saint Vincent and the Grenadines.
The Ministry, in its continual quest to enhance public diplomacy at home and abroad, has, through partnership with the Ministry of Education, National Reconciliation and Ecclesiastical Affairs; made presentations to fourth and fifth formers, on the importance of an effective foreign policy and diplomatic relations, the role and functions of the Ministry of Foreign Affairs, Trade and Commerce, as well as career opportunities that are available within the Ministry.
To date, the Ministry has reached an audience of 974 students and teachers across 20 educational institutions. In addition to the presentations made, students and young professionals have been invited to participate in the 2017/2018 Essay Competition that is facilitated by the Ministry. The competition is divided into two groups: Group 1 (Ages 15 – 20 years), and Group 2 (Ages 21 – 30 years).
In Group 1, the topic is: "The opening of the Argyle International Airport will provide Saint Vincent and the Grenadines air access to new international markets. In what ways can the new international airport facilitate increased foreign investment and aid in diversifying our trade portfolio?"
Participants in group 2 will discuss the topic "As of January 2017, Saint Vincent and the Grenadines began a 3 year term on the United Nations Economic and Social Council (ECOSOC), additionally, this country is bidding for a seat on the UN Security Council as a non-permanent member. How is it beneficial for a small country like this to serve on these international committees? " For further details and guidelines, the Ministry invites prospective participants to visit: www.gov.vc or the Facebook page: Ministry of Foreign Affairs, Trade and Commerce.
The Ministry of Foreign Affairs, Trade and Commerce remains committed to ensuring that the profile of Saint Vincent and the Grenadines is enhanced locally, regionally and internationally.
For further information, please click the posters below, or contact the Ministry at telephone number: 784-456-2060.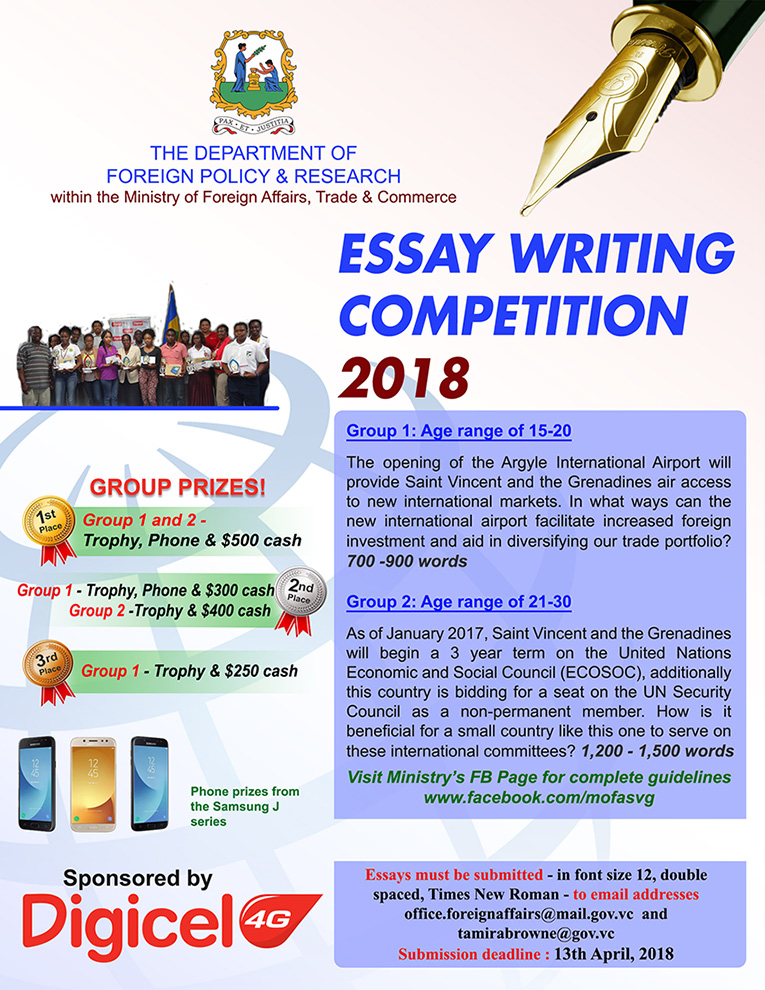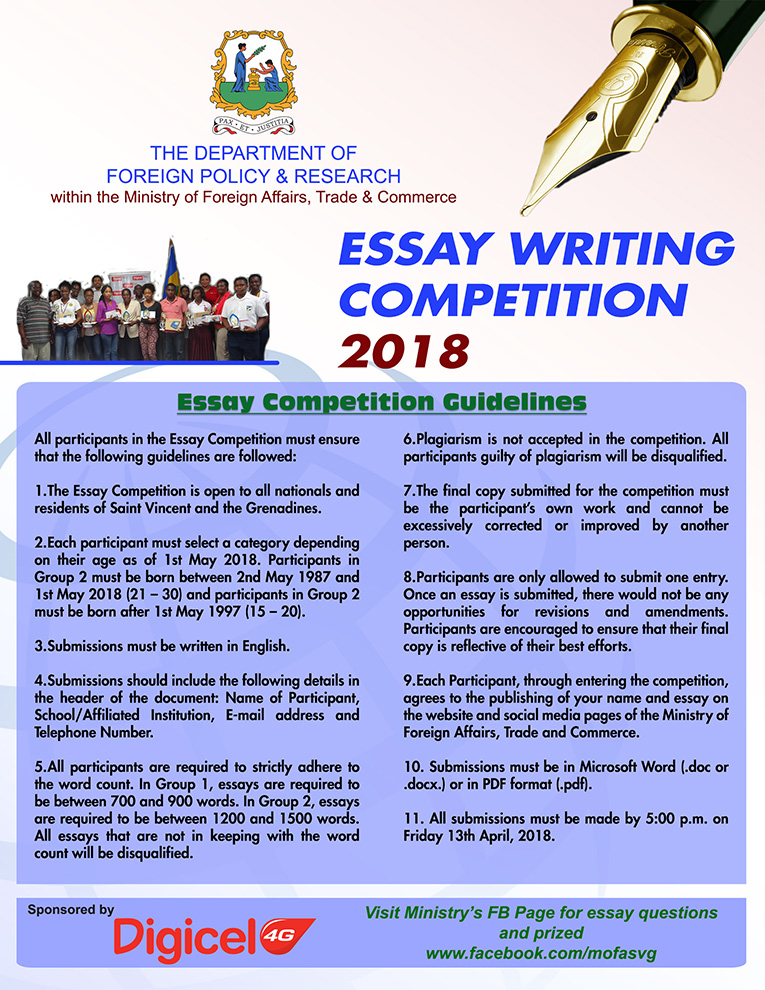 SOURCE: Ministry of Foreign Affairs, Trade & Commerce